International affairs, a priority for the INSIS
A discipline which is strongly involved in major societal challenges
In an international scientific context that is inseparable from the socio-economic world and the challenges facing society, the INSIS is developing its international strategy around four objectives:
Developing, consolidating

and bringing international collaborations to fruition

Investing

for the future and contributing to collective and world-wide progress

Encouraging, structuring

and supporting unit directors and researchers in their international collaborations
For Europe, supporting national partnerships and networks (GDR, GIS, federations, etc.) so that they can serve as platforms for European projects.
A strong international presence
With its 6 IRL International research laboratories (e.g. UMI), its 20 IRP International research programmes (e.g. LIA), its 8 IRN International research networks and the funding of 45 IEA International exploratory actions (e.g. PICS and PRC), the INSIS is present on all continents and has research collaborations with more than 30 countries, both emerging and reference countries in the field of engineering. More than 45% of the INSIS publications are co-authored with international partners.
International research laboratory (dont 6 ex.UMI)
International research project (ex. LIA)
International research network
International exploratory actions (ex. PICS et PRC)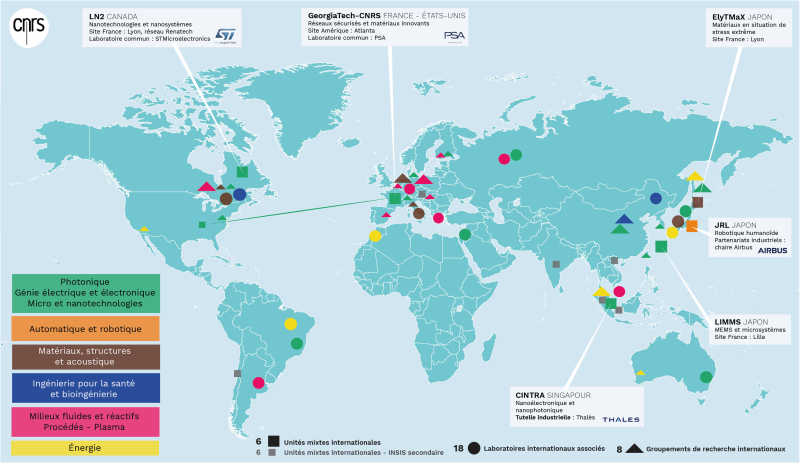 Présence internationale INSIS par thématique (2018) / © INSIS Communication